Coronavirus: Vodafone and TalkTalk report surge in internet use
Vodafone has said it is experiencing a 30% rise in internet traffic across its fixed-line and mobile networks.
More people are working from home as a result of the coronavirus pandemic, putting more demand on all networks.
TalkTalk, another internet provider, said that its daytime network traffic had risen 20% since Monday.
One EU official has suggested that online TV services should stream content in lower resolution to protect broadband infrastructure.
On Wednesday evening, European Union commissioner Thierry Breton called on content providers to switch to standard definition feeds to prevent networks from being overloaded.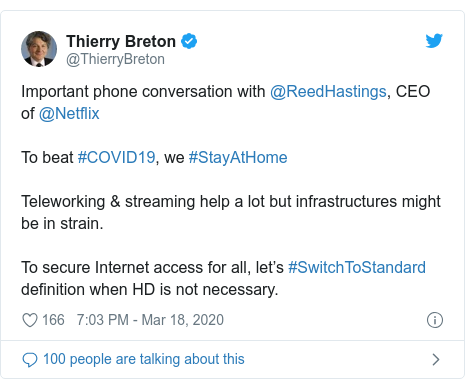 But the internet providers have played down suggestions that they cannot cope.
Extended hours
Use of remote-access technologies, webmail and video-conferencing apps are taking their toll.
Vodafone says spikes in usage are "largely the same" as before in terms of the total amount of data being uploaded and downloaded.
But the "busy hours", which normally run from 18:00 to 20:00, now extend all the way back to lunchtime.